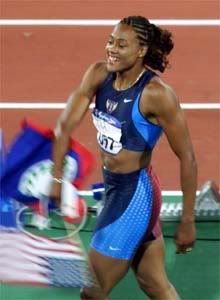 Here is a poignant memory for most Belizeans. Marion Jones, the way she was in all her Olympian Glory carrying, nay waving aloft, the Belizean National Flag at a triumphant moment at the 2000 Summer Olympic Games in Sydney Australia.
That's the way she was before her complete and ultimate fall from grace after admitting to taking performance enhancing drugs and lying to the universe about this. She paid a high price for her dishonesty including a stay in a federal penitentiary for six months, being disbarred from her sport for life, and losing all the medals she won at the Sydney games.
Well, this is not the end for Marion Jones who is now staging a comeback in the sport of basketball which is the second love of her life. She has also brought out a new book, On the Right Track (Simon and Schuster) in which she tells her story of coming to grips with the consequences of her actions.
You may ask. Well, why does Belizegial care about this fallen star? The answer would be that in the tropics, we are proud to lay claim to her roots. You see, her mom (also named Marion) is from Belize. So, in our little corner of the world, the two Marions are a big deal to us. Bottomline is, we care what happens to Marion because in our lingo, 'she da fu we'. Translation, she belongs to us.
We wish her all the best in her second career as a professional basketball player with the WNBA's Tusla Shock and will continue to follow her story onward.