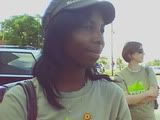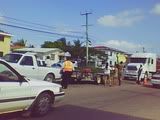 The pictures above are from today's radiothon held today here in the tropics to aid the victims of the earthquake in Haiti. The radiothon was sponsored by Wave Radio, Belize Telemedia and the Belize Red Cross. Approximately $25,000 was pledged by radio callers to this event.
For the better part of this past week, we have been deluged with photos of the devastation coming out of Haiti as a result of the earthquake that hit there on Tuesday, January 12, 2010 and which destroyed most of the capital city of Port-au-Prince.
As with most tragedies, among the first to respond were trained rescue unit personnel from the USA and elsewhere whose grim task is to dig beneath the rubble to find trapped survivors. Among the survivors found so far, these incredibly include a 2 year old baby girl who has been without any food or water for several days. Amazingly, she came out with a few scratches only.
The US army and major news networks were there within 48 hours reporting from the tarmac of the airport as traveling to the interior of Port-au-Prince was fraught with difficulties arising from limited fuel supply and remaining tremors which reportedly continue to shake the earth in this Caribbean nation.
Reports continue to indicate that getting the much needed items such as water, food and medicinal supplies to the remaining survivors in Port-au-Prince is a monumental task and many remain without any sustenance or medical attention tonight.
The death toll is massive, as much as 20,000 and may increase to as much as 50,000. US Secretary of State, Hilary Clinton, is in Haiti tonight visiting with Haitian President, Rene Preval and the floating hospital ship, USNS Comfort, is on its way to Haiti with 1000 beds ready to render medical assistance.
With all of you, I join in sending up prayers to the almighty to help the Haitians to find relief amidst this tragedy and that with all of our help, they can climb out of this tragedy with a renewed will and vigor in their lives.
"Give me your tired, your poor,
Your huddled masses yearning to breathe free,
The wretched refuse of your teeming shore,
Send these, the homeless, tempest tossed to me.."
For those of you living in the U.S.A., the easiest way to donate to the Haiti Relief effort is to text in your donation. All you have to do is text HAITI to 90999 and an automatic donation of $10 will be sent in to the American Red Cross from you.