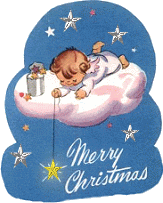 A time for reflection on the events that have transpired during 2006. For me, personally, it has been a year of ups and downs. More ups than downs. Certainly, I am in a good position when it comes to my own self validation and self worth. The downs have been triggered mostly by external factors, most of which are beyond my own control.
One only has to watch the news both locally and internationally, to know that we are a nation; nay, indeed, a world under siege. Life, as we know it, has been changed and our sense of peace and well-being has undergone a sowmehat rapid transformation.
For Christians the world over, Christmas is symbolized by the birth of the Baby Jesus. It is a time for renewed hope and rebirth. Some of the best experiences which occurred personally for me during this past year came about as the result of reaching out and helping others.
I have read many great blogs during this past year and become familiar with the many wonderful writers behind them. One great comment that I came across recently said..... "As long as you are wallowing in your own misery, you are living in a state of self-centredness. The antidote to any situation is to reach out and live in the spirit of service to your fellow human being. Focus on giving to others, and that hole in your soul will disappear. Live a life in faith - whatever faith you can muster - and you'll not be too affected by the world. Wear the world, in victory and defeat, like a loose garment."
St. Francis of Assisi wrote this wonderfully meaningful prayer which reads:

Lord, make me a channel of thy peace;
that where there is hatred, I may bring love;
that where there is wrong, I may bring the spirit of forgiveness;
that where there is discord, I may bring harmony;
that where there is error, I may bring truth;
that where there is doubt, I may bring faith;
that where there is despair, I may bring hope;
that where there are shadows, I may bring light;
that where there is sadness, I may bring joy.

Lord, grant that I may seek to comfort rather than to be comforted;
to understand, than to be understood;
to love, than to be loved.
For it is by self-forgetting that one finds oneself.
It is by forgiving, that one is forgiven.
It is by dying that one awakens to eternal life.
Amen.